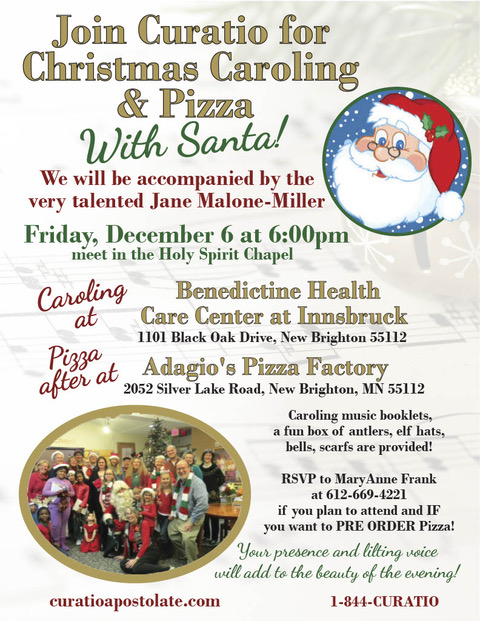 Join Curation for Christmas Caroling & Pizza!
With Santa! Accompanied by the very talented Jane Malone Miller.
6:00PM | Friday December 6th, 2019
Caroling at:
Benedictine Health care center at Innsbruck
1101 Black Oak Drive, New Brighton
Pizza After at:
Adagio's Pizza Factory
2052 Silver Lake Road, New Brighton
Caroling music booklets, a fun box of antlers, elf hats, bells and scarfs are provided!
RSVP to MaryAnne Frank at 612-669-4221 if you plan to attend and IF you want to PREORDER Pizza!
Your Presence and lilting voice will add to the beauty of the evening!
Livestream WebinarUniversity of St. Thomas, MNFeaturing:Charlie Camosy, Professor of Theology at Fordham UniversityBarnett Rosenfield, Attorney at Mid-Minnesota Legal Aid/Minnesota Disability Law CenterDate & Time:Friday, May 22, 202011:00 AM - 12:00 PM Upcoming...
read more
Mass Intentions & Holy Hours
Every First Friday Curatio Chaplains will offer Masses for the intentions of Curatio and members. Leave your prayer requests, text or call 1-844-CURATIO ‭(844) 287-2846‬ or email
CuratioPrayers@gmail.com.
In addition, Curatio's Prayer Responder "CPR" team will offer a Holy Hour for your intentions and for Curatio.