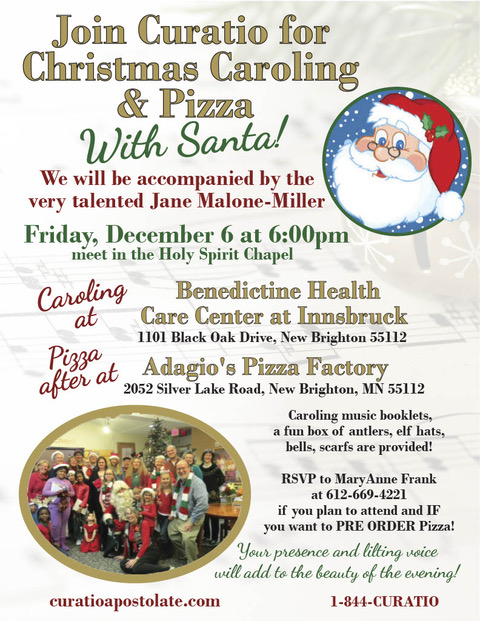 Join Curation for Christmas Caroling & Pizza!
With Santa! Accompanied by the very talented Jane Malone Miller.
6:00PM | Friday December 6th, 2019
Caroling at:
Benedictine Health care center at Innsbruck
1101 Black Oak Drive, New Brighton
Pizza After at:
Adagio's Pizza Factory
2052 Silver Lake Road, New Brighton
Caroling music booklets, a fun box of antlers, elf hats, bells and scarfs are provided!
RSVP to MaryAnne Frank at 612-669-4221 if you plan to attend and IF you want to PREORDER Pizza!
Your Presence and lilting voice will add to the beauty of the evening!
6:00PM - 7:30PM | April 16th, 2020 The Grateful Table Cafe 2804 Fairview Ave N, Roseville, MN 55113 Come share a light meal & deepen your perspective on: "Threats to Human Dignity: How we might encounter and counter this in life". Enjoy a talk and Q&A with...
read more
Mass Intentions & Holy Hours
Every First Friday Curatio Chaplains will offer Masses for the intentions of Curatio and members. Leave your prayer requests at 1-844-CURATIO or email CuratioEvent@gmail.com Also, Curatio's  prayer team will offer a Holy Hour one day a week for your intentions and for Curatio.