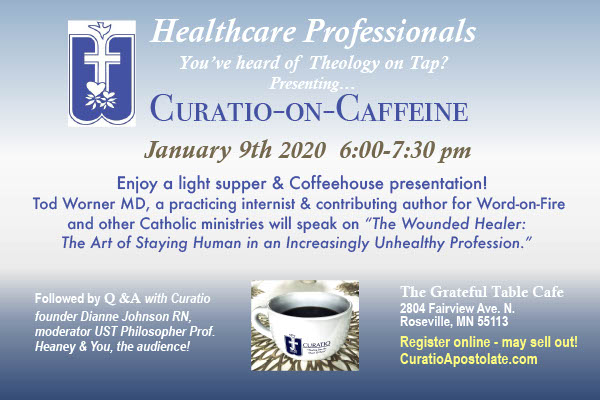 6:00PM – 7:30PM | January 9th, 2020
The Grateful Table Cafe
 2804 Fairview Ave N, Roseville, MN 55113
Enjoy a light supper and coffeehouse presentation! 
Tod Warner MD, a practicing internist and contributing author for Word on Fire and other Catholic ministries will speak on "The Wounded Healer: The Art of Staying Human in an Increasingly Unhealthy Profession".
Followed by a Q&A with Curation founder Dianne Johnson RN, moderator UST Philosophy Professor Heaney and you the audience!  
Join Us for Curatio's Lenten Half-Day Retreat "Consolation in Christ: Finding Hope as a Healer" with Father Marcus MillessSaturday, March 7, 20207:30AM to 12:00PM(Includes Breakfast & Lunch) About Fr. Marcus Milless Fr. Marcus Milless, a former Curatio Chaplain, now...
read more
Mass Intentions & Holy Hours
Every First Friday Curatio Chaplains will offer Masses for the intentions of Curatio and members. Leave your prayer requests at 1-844-CURATIO or email CuratioEvent@gmail.com Also, Curatio's  prayer team will offer a Holy Hour one day a week for your intentions and for Curatio.