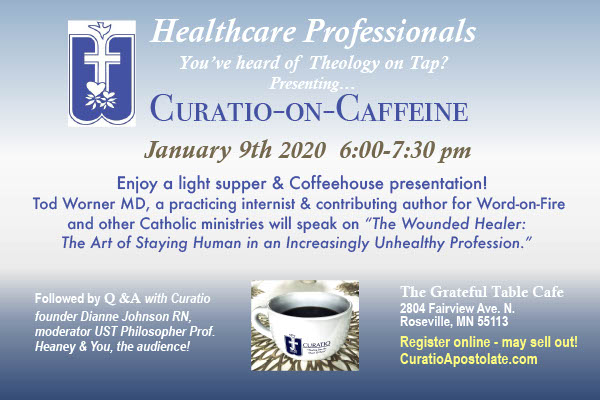 6:00PM – 7:30PM | January 9th, 2020
The Grateful Table Cafe
 2804 Fairview Ave N, Roseville, MN 55113
Enjoy a light supper and coffeehouse presentation! 
Tod Warner MD, a practicing internist and contributing author for Word on Fire and other Catholic ministries will speak on "The Wounded Healer: The Art of Staying Human in an Increasingly Unhealthy Profession".
Followed by a Q&A with Curation founder Dianne Johnson RN, moderator UST Philosophy Professor Heaney and you the audience!  
World Day of the Sick 2020 10:00AM | February 8th, 2020 Mass Celebrated by Archbishop Bernard Hebda, followed by a talk by Dr. Tod Worner. Church of Saint Agnes535 Thomas AveSt. Paul, MN 55103 The World Day of the Sick is also the feast day of Our Lady of Lourdes....
read more
Mass Intentions & Holy Hours
Every First Friday Curatio Chaplains will offer Masses for the intentions of Curatio and members. Leave your prayer requests at 1-844-CURATIO or email CuratioEvent@gmail.com Also, Curatio's  prayer team will offer a Holy Hour one day a week for your intentions and for Curatio.