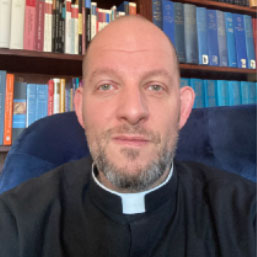 Introducing Father Fr. Byron Hagan
Although trained as a musician with a career spanning nearly twenty years based in Nashville and Los Angeles, Byron Hagan's abiding interest in literature and philosophy led him to theology and the Catholic Church, and then to the priesthood. Ordained priest in 2015, Fr. Hagan has a B.A. Latin, Philosophy, and Catholic Studies from the Univ. of St. Thomas, and took the Master of Divinity and Master of Theology degrees from the St. Paul Seminary School of Divinity, with a thesis on the theological metaphysics of Thomas Aquinas.
Fr. Hagan cultivates knowledge of Christian civilization especially in the interpretation of 20th century "Communio School" theology. He is co-pastor (Priest In Solidum) at St Mary's in Lowertown St. Paul, where he is part of the endeavor to found an Oratory of St Philip Neri. He is also chaplain at Regions hospital and tutor in the Anselm House Fellows program at the Univ. of Minn. In the Spring of 2022 Fr. Hagan served as adjunct instructor of theology at the St Paul Seminary, teaching "Theology of Holy Orders."
Come learn from & be inspired by Fr. Byron Hagan!
Half-Day Retreat Schedule
Coming Soon.
Retreat Address
St. Mary's Lowertown
261 E 8th St
St. Paul, Mn 55101